FORECLOSURE MANAGEMENT SOFTWARE
Digital foreclosure software that scales transactions
Stavvy can optimize attorney and servicer document collaboration, eliminate delays associated with shipping paper files, and enhance efficiency with digital tools, automation, and notarization.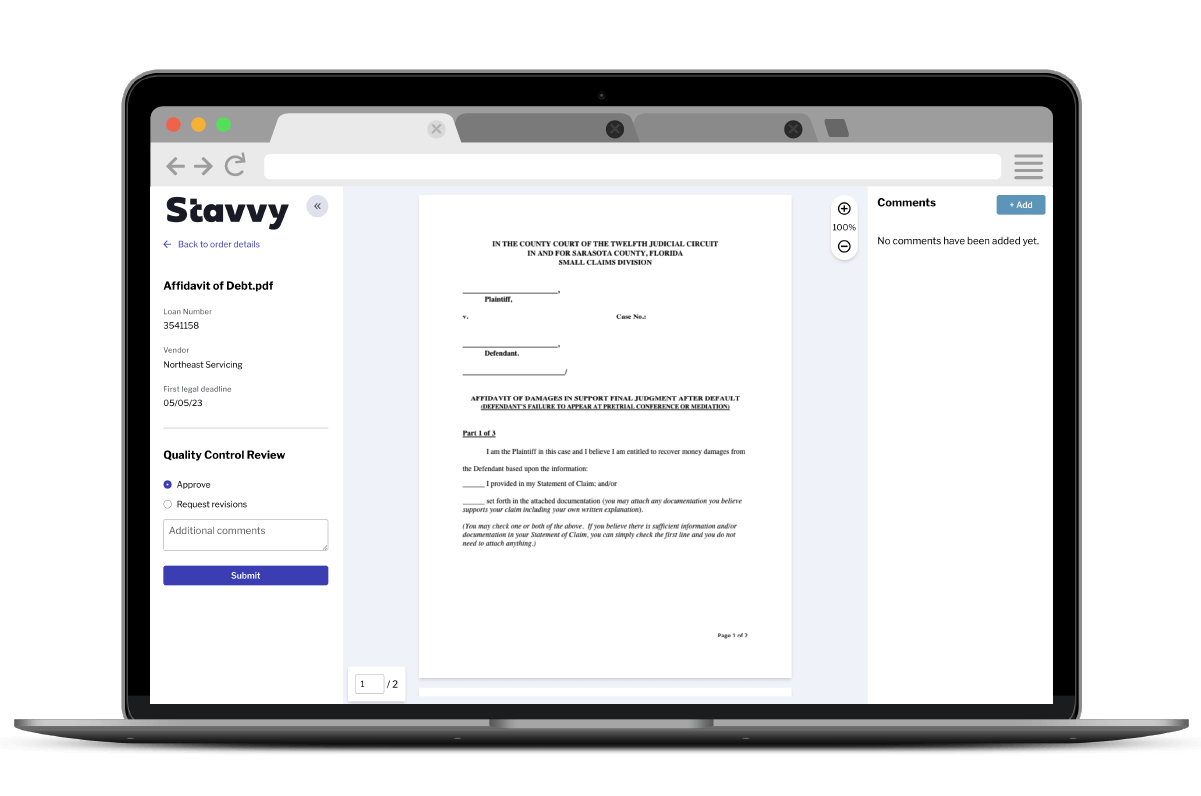 A digital workspace for loan servicers and attorneys
Streamline collaboration between default servicing professionals and legal counsel to help meet time-sensitive deadlines. Stavvy's platform empowers users to review, approve, sign, notarize, and record foreclosure documents electronically from anywhere.
Secure file delivery
The Stavvy platform provides a secure and efficient way to exchange and manage documents, assign due dates, facilitate communication, and monitor file progress all in one place.
Collaborative quality control workflow
Servicers and their attorneys can efficiently manage document revisions and edit requests with in-line comments. Counter remarks can be added for a streamlined and holistic review process.
Time-saving document prep tools
Easily review, maintain, and approve documents for signing. Prepare for eSign, and RON in one centralized location.
Automated communication
Stay informed and take action quickly throughout the foreclosure process with automated email notifications delivered to stakeholders' inboxes.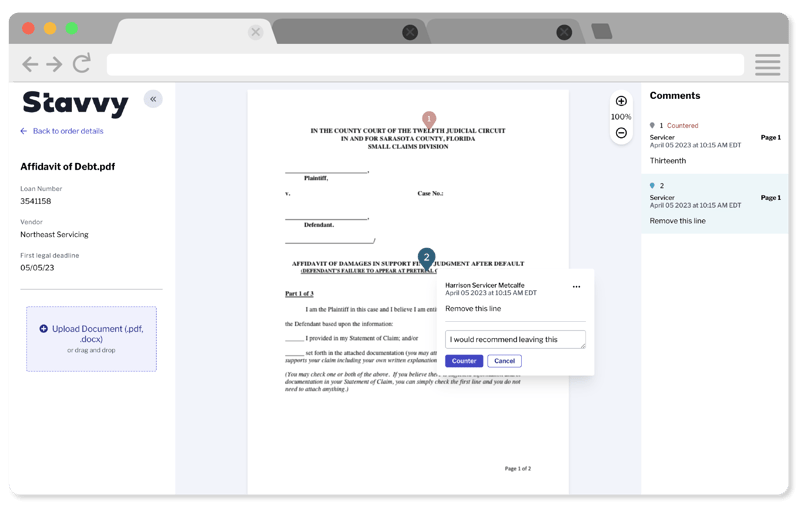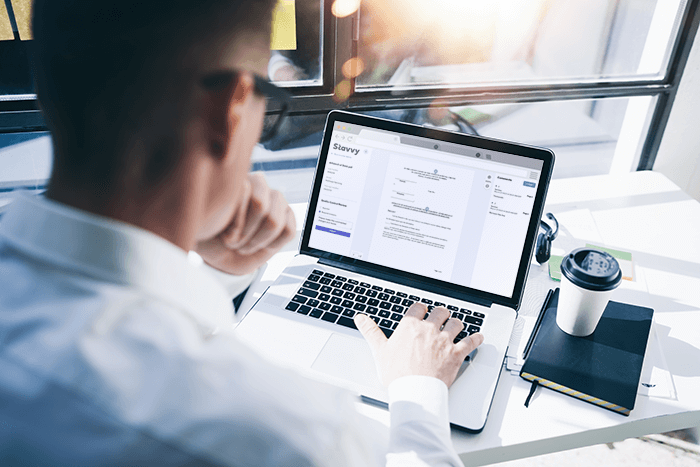 REMOTE ONLINE NOTARIZATION
A fully digital notarization solution for foreclosure transactions
Sign and notarize documents from anywhere
Complete foreclosure transactions in less time
Preserve every detail with a digital audit trail
Ensure security with digital tamper seals
ERECORDING
Fast-track foreclosure document recording
PRESS RELEASE
"Flagstar very much appreciates and values our partnership with Stavvy as we continually look for ways to make the customer experience easier and more convenient. We place a huge value on using technology like Stavvy to change consumers' lives and offer an industry-leading customer experience."
Lee Smith, Executive Vice President and President of Mortgage at Flagstar Bank.

MISMO® certified solution
The Stavvy platform meets MISMO standards and best practices so that you can conduct remote notarization with confidence.

SOC2 Compliant
An independent auditor maintains a SOC 2 Type 2 report for the Stavvy platform, demonstrating our commitment to security.
A digital foreclosure solution built for real estate