IN-PERSON ELECTRONIC NOTARIZATION
Exceptional speed and accuracy at the closing table with IPEN
In-person electronic notarization (IPEN) improves efficiency, security, and customer satisfaction while providing a convenient and familiar closing experience.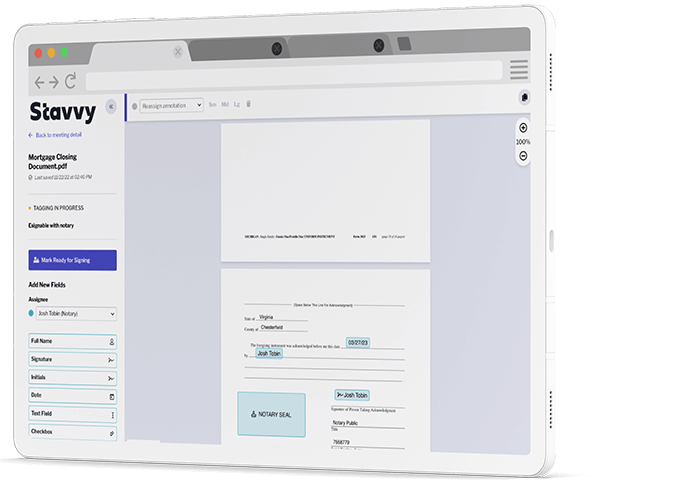 Unlock digital options with the power of IPEN
Stavvy's IPEN functionality delivers the efficiency of eClosing without replacing the personal touch of a traditional closing.
Drive efficiency and security at the closing table
IPEN offers a fast, efficient, and secure way to sign documents at the closing table by replacing paper with a digital experience.
Streamline the signing experience
Spend less time and money per transaction by eliminating the resources required to print and prepare a traditional paper closing.
Improve accuracy with fewer errors
A digital signing experience eliminates the reliance on "stare and compare." Reduce the risk of missed documents, signatures, and costly post-closing remediation.
Offer an exceptional customer experience
Signers and notaries spend less time at the closing table by eliminating paper.
Flexible mobile notary options
Expand market presence and increase capacity through an integrated mobile notary signing service equipped for IPEN.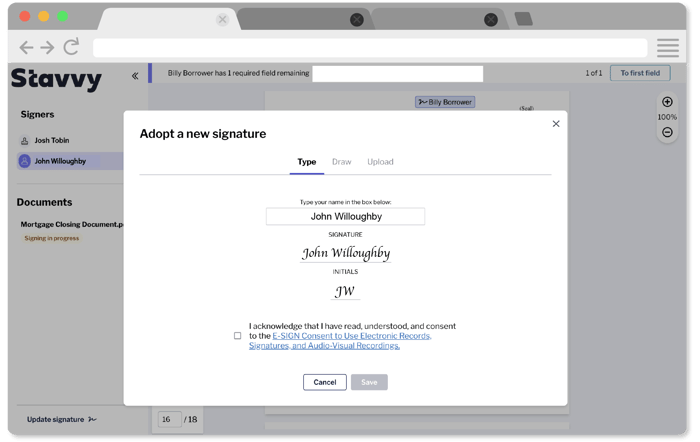 Permanent IPEN Laws

Pending IPEN Laws

No Active IPEN Laws
This map is intended to provide general information about IPEN laws in the United States and its territories. State law websites should be consulted for all questions or conflicts, which have the most recent information. Updated October 2023.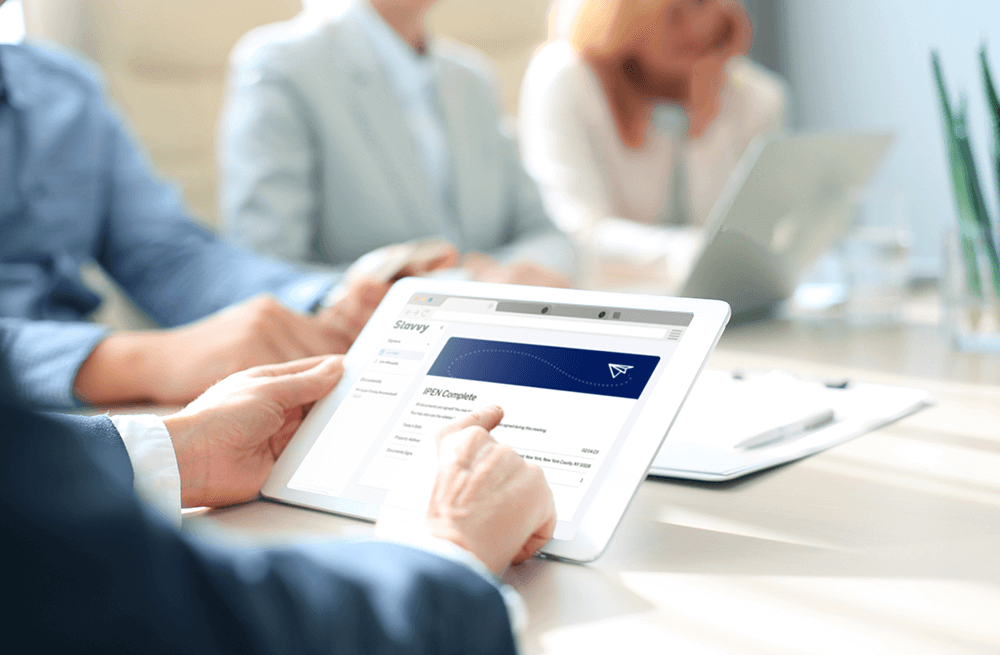 INSTANT EFFICIENCY
IPEN is a digital alternative to the traditional signing experience
Simple, intuitive experience
Optional digital ID verification
Execute an entire closing electronically
eRecord documents with your registrar
SAFETY AND SECURITY
Security measures built with you in mind
Digital certificates to ensure integrity
Tamper sealed documents upon execution
Digital audit trails logging every closing detail
Electronic notary journals
IPEN

In-person electronic notarization

RON

Remote online notarization

Closing Meeting
The signer and notary meet in person
The signer and notary meet virtually via video conferencing
Signer ID Verification
The notary can verify the signer's identity through traditional means or with digital ID verification
Signer completes knowledge-based authentication (KBA) and digital ID verification
Devices
The signer and notary use the same computer or tablet to sign and notarize documents
The signer and notary use separate devices to sign and notarize documents
Learn more about virtual closing meetings for speedier transactions at scale.



MISMO® certified solution
The Stavvy platform meets MISMO standards and best practices, so you can offer IPEN with confidence.

SOC2 Compliant
Stavvy maintains a SOC 2 Type 2 audit report to demonstrate our commitment to protecting the confidentiality, integrity, and availability of customer data.
Powerful digital signing experience with a familiar touch