Think of what you and your customers can
do
with all that saved time
You've undoubtedly seen the benefits of securely sharing documents online and getting them signed via remote online notarization (RON). Not only do your customers prefer interacting online (especially when it comes to loan modifications), but you've witnessed RON improve your turnaround time and streamline your processes.

So, why would you do all that online work only to then print your notarized documents and send them in the postal mail to be recorded?

Stavvy has built an eRecording integration with Simplifile to let you go from signing off on a meeting to, within minutes, sending your notarized document to your county or municipal clerk.

That's minutes. Not days. Not weeks.

And that time saved makes all the difference with loan modification documentation that will enable a homeowner to keep their home.
Quicker response time
With our Simplifile integration, you're able to see within minutes if your document has been approved or needs changes. No more waiting weeks just to find out you have to redo the recording process because of a missing signature or date.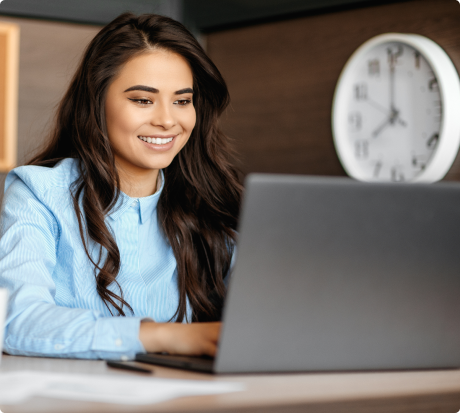 Clearer visibility
All parties can easily see the erecording status of a document at any time.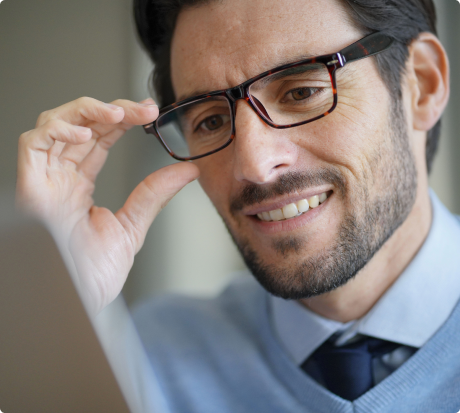 Better customer experience
A quicker resolution to an emotional loan modification makes homeowners happier. And that's your end goal.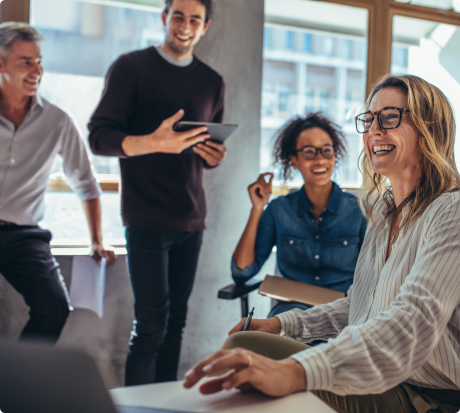 Loan Servicers

Title & Settlement Agents
How it works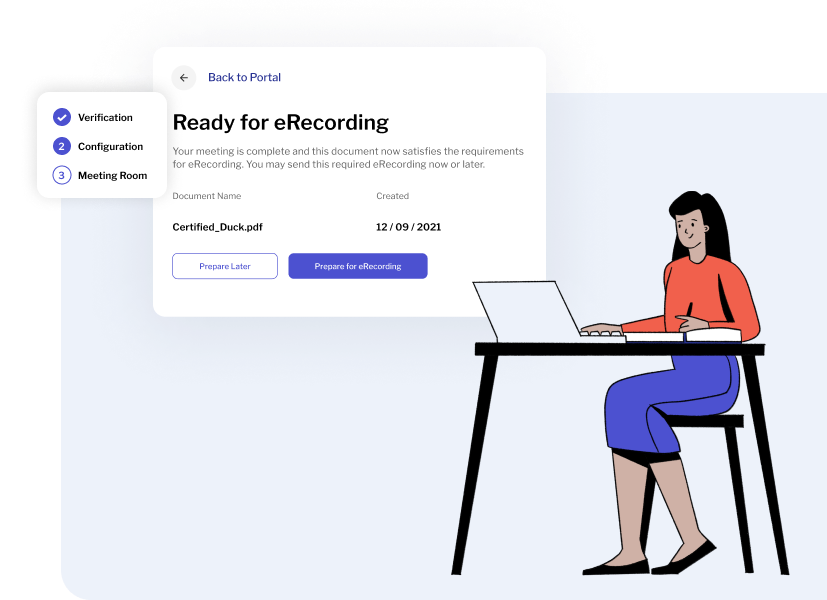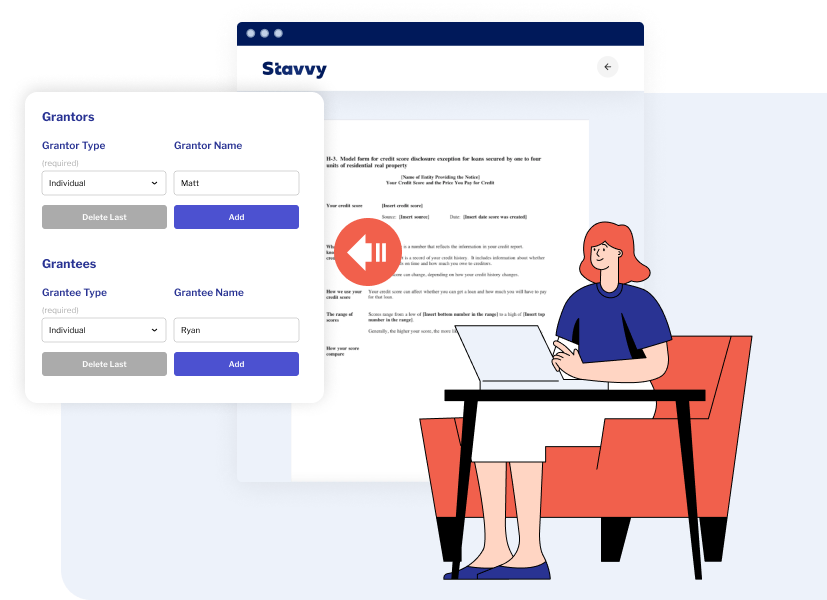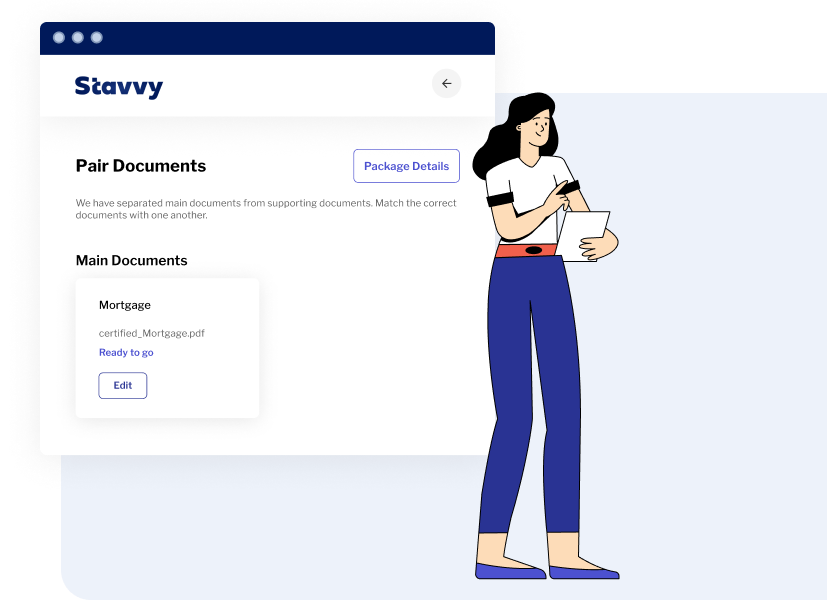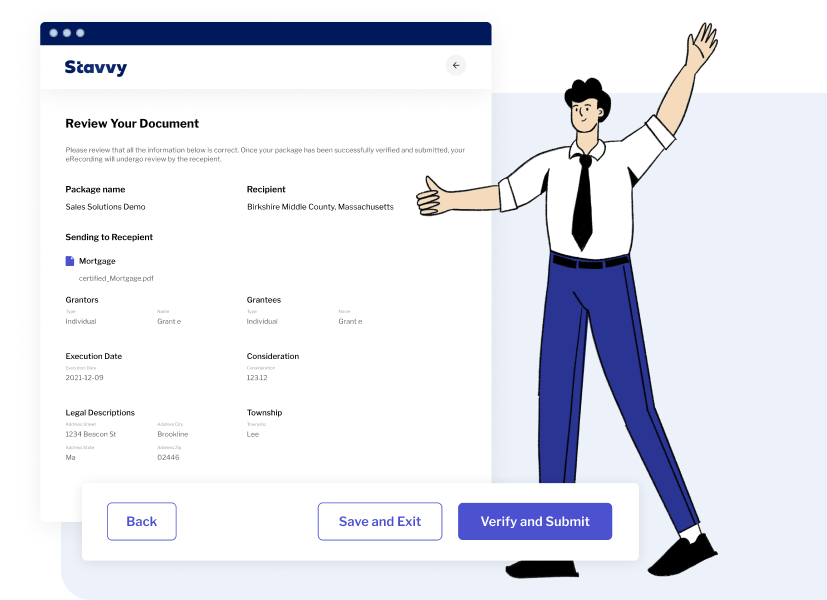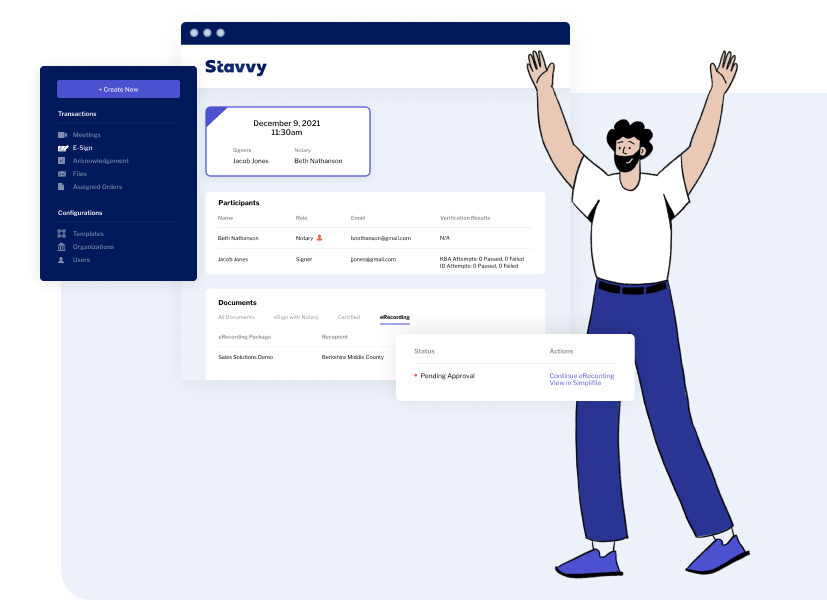 1
Once a RON meeting has ended, begin to prepare the eRecording package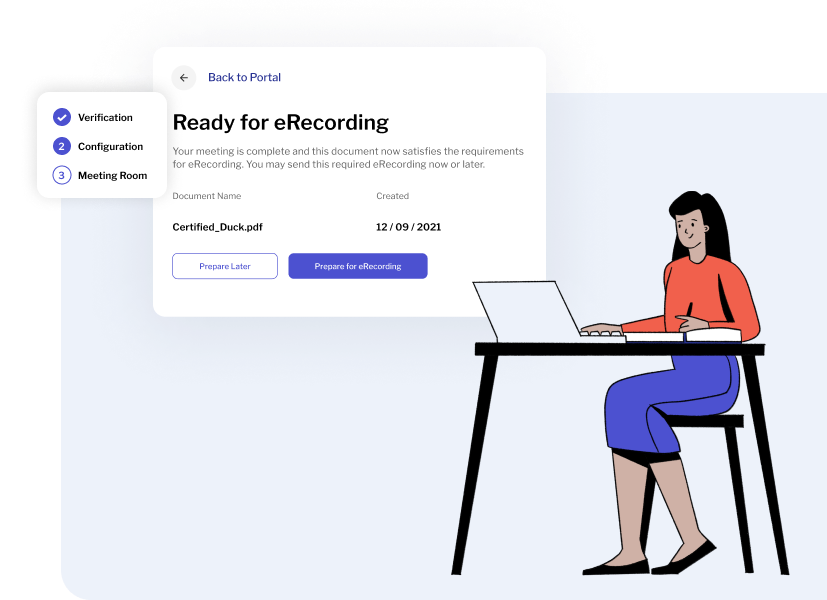 2
Complete the required fields required for your document type and by your county. Packages can't be submitted until all required fields are filled.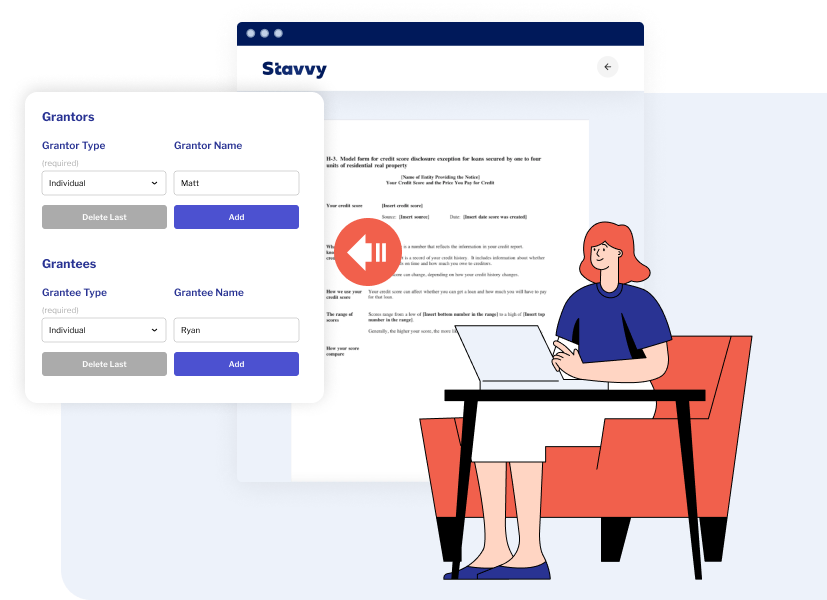 3
Pair main and supporting documents. (You can also split documents if you need to.)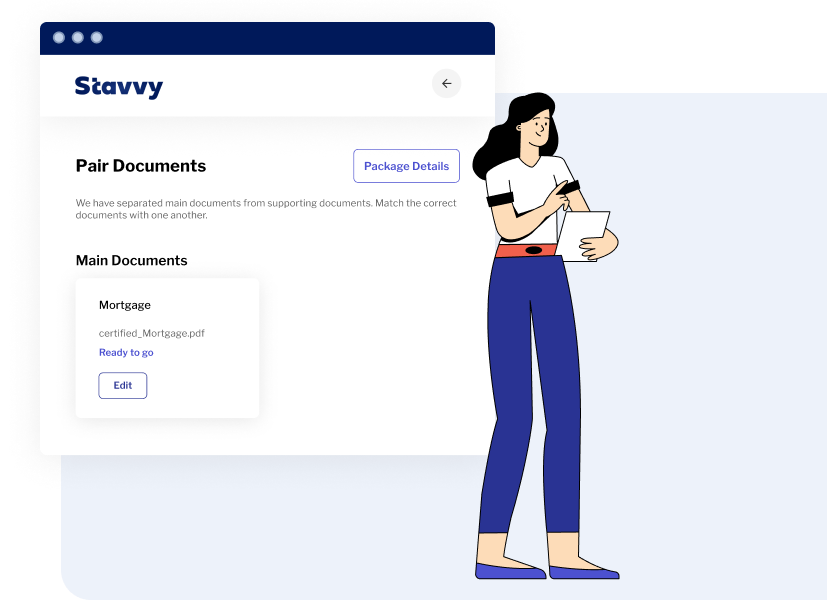 4
Verify information to be submitted with your eRecording package. If the details are correct, submit.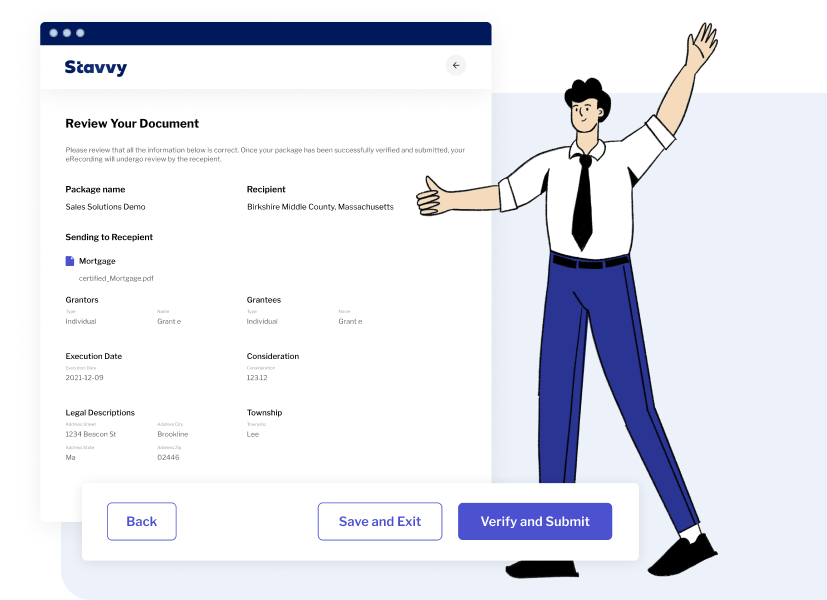 5
Check the status of your recording. Click through to your Simplifile account for more details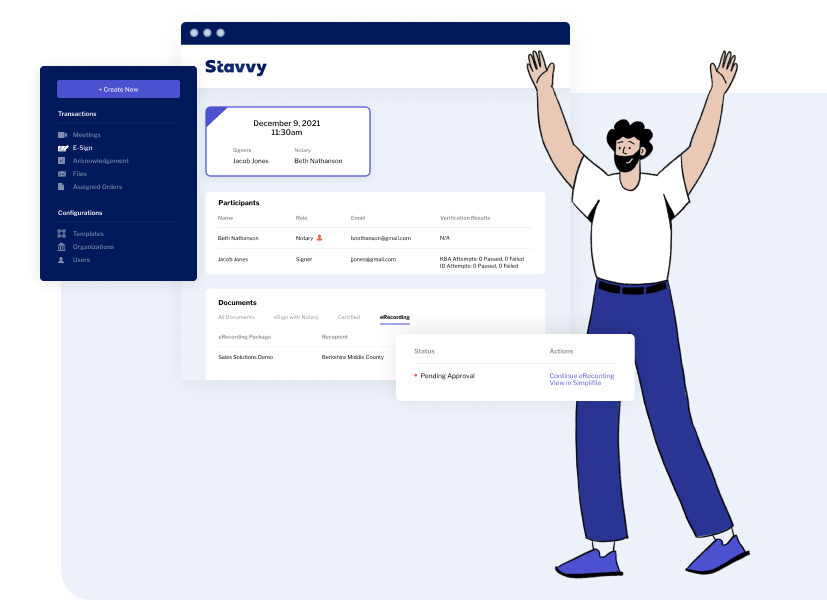 Security you can count on
SOC 2 compliant
We work with an independent auditor to maintain a SOC 2 Type 2 report, which objectively attests that we prioritize security and implement continuous security monitoring to safeguard our customer's data
A MISMO® certified solution
Manage documents with confidence. Our software complies with MISMO® RON standards and best practices
Certified, notarized documents
Notarized documents are tamper-sealed to preserve their integrity, and the accompanying audit trail provides related details
Holistic encryption
We provide encryption while data is moving through the platform and when data is stored on our servers
SOC 2 compliant
We work with an independent auditor to maintain a SOC 2 Type 2 report, which objectively certifies our controls to ensure the continuous security of our customers' data
A MISMO® certified solution
Manage documents with confidence. Our software complies with MISMO® RON standards and best practices
Holistic encryption
We provide encryption while data is moving through the platform and when data is stored on our servers
Certified, notarized documents
Notarized documents are tamper-sealed to preserve their integrity, and the accompanying audit trail provides related details