SOLUTIONS
The Stavvy platform
Stavvy provides digital solutions designed to simplify the process of executing real estate transactions, managing documents, and enabling interactions across the ecosystem. Title agents, lenders, servicers, attorneys, and homeowners can perform digital transactions more efficiently and securely with Stavvy's eClosing, loss mitigation, and foreclosure solutions.
Say goodbye to outdated paper processes and hello to a new era of convenience
The Stavvy platform is packed with cutting-edge digital features that can revolutionize the way you do business.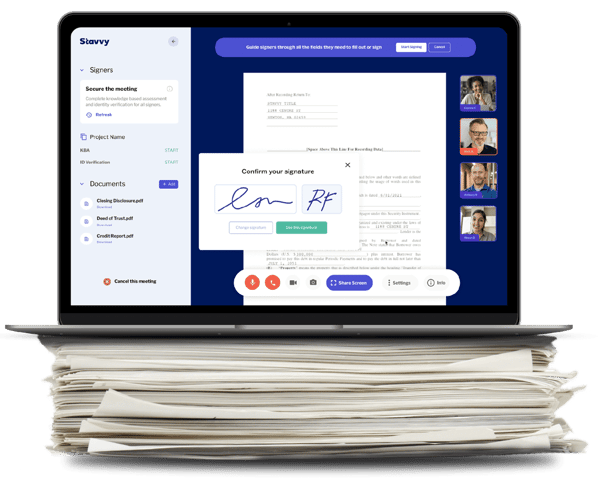 Choose from our solutions
CUSTOMER TESTIMONIALS
How Stavvy customers are finding digital success
"The consolidation and cost-savings were a big reason for us to switch to Stavvy. Stavvy provided a single platform for eSign domestically and internationally and remote notarization. Plus, conducting a digital closing with the Stavvy platform gave our closing specialists more time to prep and work on other transactions."

"[The signing process] had been done in about 15 minutes. . . The whole infrastructure has made it very simple for us and it ended up being a cost-savings model. We found in the long term we'd save more time, we could do more closings, and we didn't have the mileage expense of sending our staff out to all these remote locations."
Execute digital real estate transactions efficiently and securely with the Stavvy platform